Come play our indoor simulator, the only one in St. Clair County. No need to drive down to M-59 to play golf during the off-season, rainy days or just to try something different. We have a full bar and our chef will be available for limited food items. Please inquire about leagues or to rent the simulator for special events.
State of the art custom built 16' wide by 10' high impact screen enclosure, HD 1080p resolution and the latest in golf ball capture technology, displaying the most accurate ball data possible. Our simulator can accommodate RH and LH golfers. We are also using the latest in greatest technology in golf mats. Our mats are designed to give you a realistic feel and strike to display the real results of your ball contact. We are using Quattro mats, so your club won't bounce off the mat and give false readings or reduce chances of injury.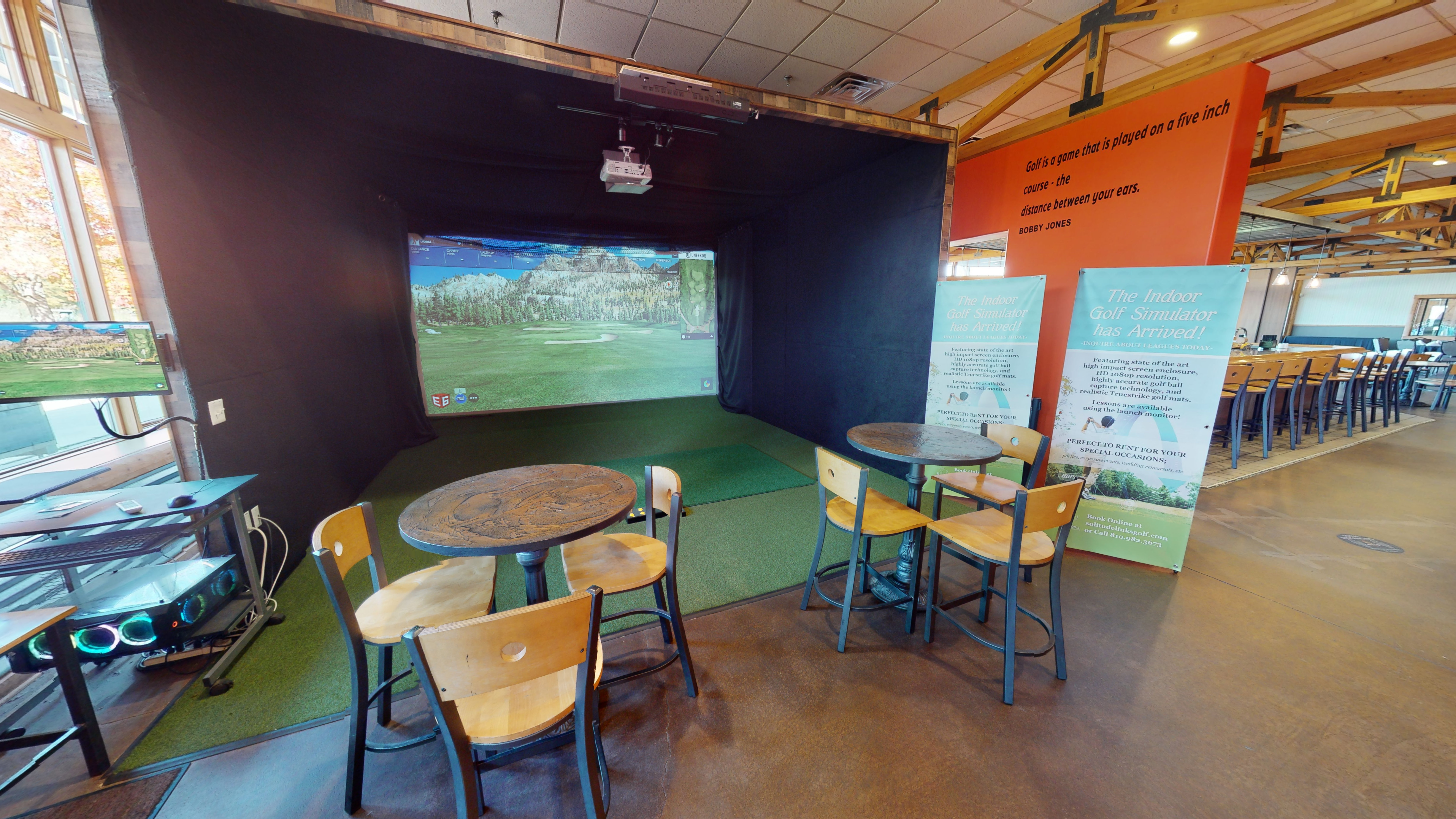 ---
We are using the new Uneekor QED Launch Monitor technology with Tru Golf E6 or The Golf Club 2019 simulation software, utilizing the best and most accurate indoor simulation possible. Tru Golf E6 and TGC2019 is rated the best software simulation program featuring the highest graphics and most realist simulation physics. Our launch monitor does not calculate ball spin as most local simulators in the area, but the launch monitor uses it's camera based technology and gather's the true ball spin and flight characteristics, it's the most realistic ball flight available. The new Uneekor gives us the ability for RH and LH players to play from the same location. TGC2019 has over 150,000 golf courses to play including our very own Solitude Links Golf Course, driving range and custom club or ball data is available for custom swing fitting by our PGA professionals on staff. Sample video shown below is TGC2019 in PC game mode, our graphics will look the same, but without the golfer on the screen as the golfer is removed during simulation mode. You can play stroke play, scrambles, match play and other games.
---
You can book your simulator tee time online below or by contacting us via telephone. Planning on playing more than one hour, please book the additional tee times to block the times.
Prices are not per person, the prices are per hour and doesn't matter if you have 1 or 8 players. Last tee time is one hour prior to closing.
Summer Season
$25/hr Weekdays (Min 1 hour)
Monday, Wednesday & Friday: 8-6pm
Tuesday & Thursday: 8-8pm
$30/hr Weekends (Min 1 hour)
Saturday or Sunday: 8-8pm
Winter Season
$35/hr Weekdays (Min 1 hour)
M-Fri: 12-8pm
$40/hr Weekends (Min 3 hours)
Saturday: 12-6pm
Sunday: Closed