Solitude Links Golf Course is the best kept secret in St. Clair County! Whether it's rustic chic or a romantic vintage affair, our exquisite lake front surroundings, picturesque waterfall and rolling hills, offer the perfect backdrop for your event. From our elegant ceremonies under the gazebo set lakeside, to our rustic banquet rooms with a continuous wall of windows overlooking our wrap around balcony. Your guests are sure to enjoy our up north feel as they relax with a cocktail under the stars.
By choosing Solitude Links to host your upcoming wedding, you are allowing yourself to have a completely customizable experience. Our outstanding management team and excellent staff will guide you through the planning process with ease. Starting from the basics and assisting in selecting everything to coordinate with your special theme or style of your event.
From custom linens and chair covers, to escort cards or personalized menus, our staff is here to make your dreams become a reality. Let the staff at Solitude Links Golf Course and Banquet Center provide you with one of your most memorable events of a lifetime, and ensure that that your event reflects the care and attention to detail you deserve!
We have just received our WeddingWire.com 2020 Couples Choice award, this is our 7th year in a row receiving this honor! Let us make your special day unforgettable at Solitude Links Golf Course & Banquet Center. We also received the 2020 award from TheKnot.com, this is our 3rd consecutive year earning this award.
WeddingWire Couples' Choice Awards® recipients represent the top 5% of wedding professionals within the WeddingWire Network who demonstrate excellence in quality, service, responsiveness and professionalism.
Solitude Links is the perfect venue for weddings and wedding receptions with its three unique and beautiful banquet halls accommodating 25 to 600 guests and an extensive selection of menu items. All halls in the banquet center have access to the decks and patio. A beautiful gazebo and waterfall overlooks the lake and offers a perfect, picturesque setting for a wedding ceremony.
We also now offer on-site accommodations at the Solitude Inn on the Green, which is located right next door and within walking distance of the clubhouse and banquet center.
Dates Still Available
---
2020
March: 6, 8, 13, 14, 15, 20, 21, 22, 27, 28, 29- All
April: 3, 4, 5, 10, 11 (Grande), 12, 19, 26 - All
May: 1, 3 ( Tranquility) 10 , 15, 17, 23, 24, 31- All
May 30 (Tranquility)
June: 5, 21 and 28 - All
6(Tranqulity)
7(Harmony)
14 (Tranquility)
26 (Tranquility)
July:3, 10, 12, 24,
July 26 (Tranquility)
August: 1 ( Tranquility), 2, 9, 16, 23, - All
August 22 (Tranquility)
Sept: 6, 11, 13, 18, 27
September 4 (Harmony)
Oct: 4, 9, 11, 23, and 25, 30, 31-All
November: 8, 13, 15, 20, 22, 27, 29-All
December: 4, 5, 6, 11, 13, 17, 20, 25, 26, 27-All
---
We now have a shuttle to/from local hotels and campgrounds. Our shuttle can accommodate up to 20 people. If more than one trip is needed, please let us know. Call and speak with one of our event coordinators at 810-982-3673 Ext.2 to schedule shuttle service at least 72 hours in advance.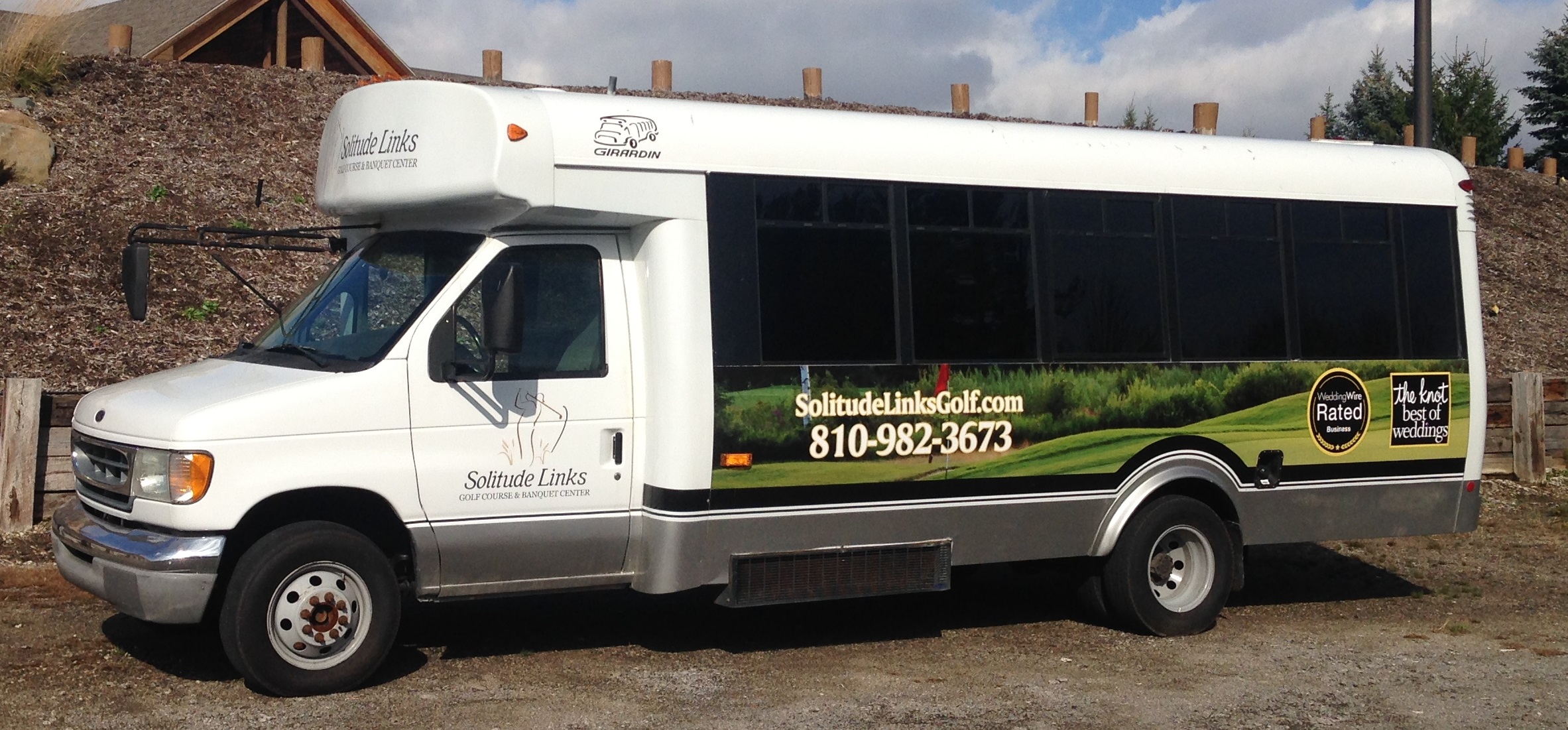 Our event coordinator, will create a memorable day for you and your guests and ensure your wedding reflects the care and attention deserved. Please contact our Events Department at (810) 982-3673 x2, of fill out the form on the right and a member of our team will contact you within 48 hours.
We look forward to speaking with you soon!